You will have peace of mind knowing that your pets are cared for by individuals that pay attention to their every need. Our sitters and walkers are supervised and maintain a high standard in pet care in your home.
We become familiar with each pet's personality and habits in order to maintain comfort, control and safety in any situation.
All pets are treated as if they were our own. We give them more love and attention than you can imagine. Safety and comfort are our top priority. Pets are aware of change in their day-to-day life and it is our goal to keep their routine as regular as possible.
It is our practice to have the same sitter/walker work with your pet on a regular basis.
It is our policy to meet all potential clients and their pet(s) before starting to work together. This helps with getting acquainted and allows you to go over necessary details pertaining to the care of your pet.
NO CONSULTATION FEE
NO EXTRA COST FOR CANCELLATIONS
NO EXTRA COST FOR FOUR PETS OR LESS
NO EXTRA COST FOR ADMINISTERING MEDICATION 
NO EXTRA COST FOR HOUSE SITTING CHORES IF PET SITTING IS IN SAME VISIT
___________________________________________________________
Consultation / Free
30 to 45 minute meeting with you and your pet because (1) you and your pet need to feel comfortable; (2) the sitter needs to feel comfortable; and (3) details are important in order to keep a set routine while you are gone. After forms are signed, we will need to receive two house keys (one for the office and one for the sitter). The key will only be labeled with your pet's name and an assigned number. There will be no other identifiable information on your house key. During the consultation, we will discuss how you want the keys returned or if you would like us to keep your keys for future sittings.
Huck's Fast Break ~
$20.00 (if over four pets add $2.00/per pet per visit)
15 to 20 minute visit; a potty break and love plus refreshing water
The Fast Break is generally used for the night visit before bedtime or a mid-day visit that requires nothing more than a potty break and some attention.
Huck's Hot Diggity ~
$24.00 (if over four pets add $2.00/per pet per visit)
30 to 35 minute visit; a short walk and/or playtime (inside or outside) plus refreshing water/food, cleaning litter boxes and lots of attention
The Hot Diggity is the best choice for quality time with your pet(s).
Huck's Up-A-Notch ~
$28.00 (if over four pets add $2.00/per pet per visit)
45 to 50 minute visit; includes all the above along with an even longer walk and/or playtime plus anything their hearts' desire
Up-A-Notch will have your pet(s) jumping for joy!
Huck's Yappy Hour+ ~
$32.00/hr.+$7.50 every quarter hour (if over four pets add $2.00/per pet per visit)
60 minutes or more in one visit; Basically… we will spend as much time with your pet(s) as you see fit. Your pets are our pets and we want to see them taken care of no matter how much time is needed.
You can't go wrong with Huck's Yappy Hour… sheer happiness!
Huckleberry PawJama Party / $90.00 to $140.00
Customized Sleepover from 9 to 14 hours in your home which includes feedings, night/morning potty breaks and an endless amount of cuddles, snuggles and playtime. Our sitter will bring a pillow and air mattress while staying in your home.
**Holiday Sleepovers will be an additional charge of $15.00 and there are some holidays that sleepovers will not be offered. Just ask whether a Holiday Sleepover is offered during your consultation.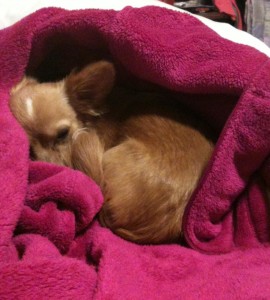 Payment is due before pet sitting, dog walking and sleepovers occur. Checks are made payable to I'm Your Huckleberry Pet Sitting. Cash and Credit Card (VISA, MasterCard, American Express & Discover) through Pay Pal are also accepted. Customized payment plans can be set up by invoice for clients that use our services on a weekly basis. You will receive one free visit for every paid referral you send us. We appreciate you believing in us when it comes to the best quality care of your pets.
Returned checks are a $35.00 charge. We understand accidents do happen, but if we receive a second returned check, we will require that payment be made by cash or money order from that point forward.
Key Policy / $5.00 charge if additional trips are made to pick up or drop off extra key(s) at your home. We recommend that you have two keys ready for the sitter at your free consultation. The sitter will keep one key and the second key will be placed in our company lock box. When the sitter makes last visit, the key will be left in a specific location inside your home or with a neighbor unless other arrangements have been made. If you like, we will keep the second key in our lock box for future visits. Again this will be discussed during consultation. All keys are labeled with your pet's name and an assigned client number. For our clients' privacy, no key will have your personal information labeled on it.
Mileage Fee / $1 per mile applies to any visit over 20 miles round trip
Huckleberry Holiday Charge:
Holiday pet sitting and dog walking visits are $5.00 additional charge per visit.  (Valentine's Evening (after 5pm); Easter Weekend; Mother's Day; Memorial Day Weekend & Memorial Day; Father's Day; July 4th Weekend & July 4th; Labor Day Weekend & Labor Day; Thanksgiving Day; Friday, Saturday & Sunday following Thanksgiving Day; Christmas/New Year's Day Block: December 21st through January 3rd) This charge is in no way directed towards our clients, it is compensation for our pet sitters and dog walkers that give up their holidays so you, our client, can enjoy your holiday worry-free.